Friday 30th August saw the first Crew set sail as part of the YMCA Tall Ships Adventure – a relay-style sailing challenge around the UK coastline.
In partnership with the Tall Ships Youth Trust, volunteers from across Newark and Sherwood are taking it in turns to sail a racing yacht until October 18th, all to raise money for YMCA Newark and Sherwood's Community and Activity Village.
The trip itself has been generously funded by BNA Charity, meaning every penny raised goes to the YMCA Village.
The first Crew include nine young people from Magnus Church of England Academy, and their teacher Mrs Metheringham – all sailing for the first time!
Ship Diaries
Young people from the Crew shared with us some of their experiences taking to the water for the first time.
"It was 3:45 AM and my Mam comes running into my room, this can only mean one thing! The experience of a lifetime! We got on the mini-bus and left Newark at 4:30 AM and when we arrived at Portsmouth we had a safety briefing and got a tour of the ship.
On our first day we travelled approximately 33 Nautical Miles. During this time, we set up the kit and set sail! I loved every minute of it, even my landscaping skills came in handy when I had to climb the 95ft mast. Also I enjoyed it when we was coming towards shore and me and Lyas had to look for lobster nets. Tomorrow will be even more fun and even more challenging as we aim to get 10 Nautical Miles more than we did today. This is the opportunity off a lifetime, thank you to everyone for making this what it is – it's awesome!"
By Josh & Lyas
"Today, we started off right after breakfast which was quite early. After sailing for a bit we put up the sails and minutes after that water got really difficult and the waves crashed more and more against the boat.
After we did our second tack, we directed the ship to the closest port. As soon as we got there, we took showers and cleaned up the boat both upstairs and downstairs.
Afterwards, Lucy, Evie, Alfred, Amy, Jasmine, Carla, Savannah and I went to get some ice cream which was an adventure in itself as we couldn't find where to buy them at!
Later, we were cutting up vegetables while, Evie and Lucy were getting them cooked on the stove. In the time that we were doing that, Jasmine has managed to drop her phone in the water! It was then gone, as it sunk right away. A couple minutes later the food was ready, so we sat down to eat. The rest of the day was really chilled as we sat and spent some time all together talking and laughing."
By Klaudia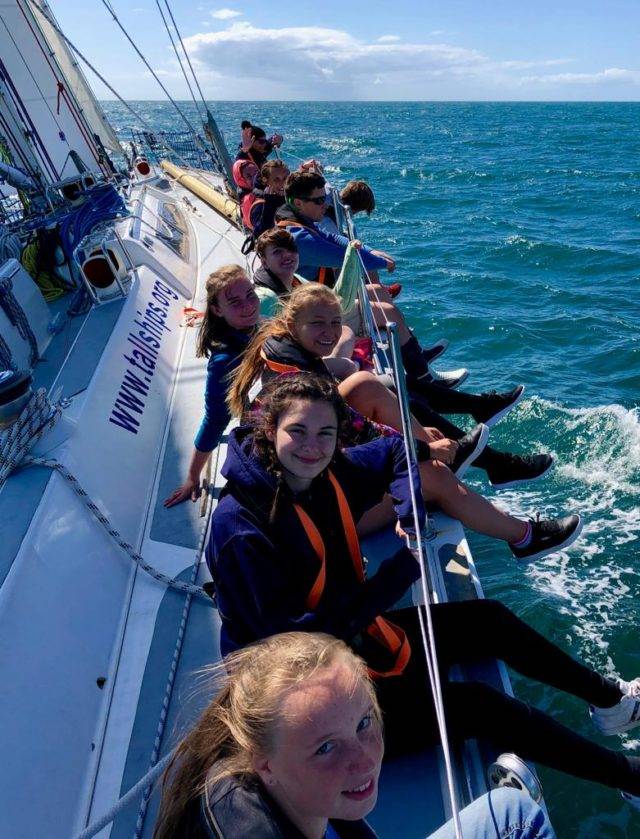 Crew 1 came into their final port in Plymouth safely on 2nd September. A thrilling adventure of ups and downs for everyone involved, the young people showed incredible spirit every step of the way.
The trip was not always plain sailing, but the young sailors battled seasickness and nerves with enthusiasm and resilience.
You can show your support for the children at Magnus Church of England Academy by donating to their fundraising page.
The next leg of the trip will set sail on 4th September, where a group of young people who were formerly homeless will be sailing from Plymouth to Cardiff.