Strength & Conditioning Gym in Newark
Whether you prefer to exercise on your own or thrive in a group setting, we've got you covered.
Our spacious, well equipped, and fully inclusive fitness area, with an exclusive outdoor gym, is located at the heart of the YMCA Village. There's no better place for your fitness and wellbeing.
We're proud to provide equal opportunities for individuals of all abilities to engage in high-quality workouts and enhance your overall well-being. Let us know if you have any questions about our Newark Gym and we will be more than happy to help you further. 
Our expert coaches will guide you through a back-to-basics approach, emphasising functional human body movements that will not only improve your physical health but also enhance your day-to-day life beyond the gym.
A fitness space that develops the mind, body, and spirit of the Newark community
Our strength and conditioning gym is designed to offer a functional fitness space where you can learn from our skilled coaches how to your improve fitness and wellbeing.
The large open plan space has an extensive range of equipment, including power racks, Olympic lifting platforms, a six-bay rig, rowers, bikes, skiergs, dumbbells, kettlebells and much more.
You can get to deadlift, push, pull, squat and throw all kinds of things around in our brand-new purpose build gym.
Strength and Conditioning
A progressive fitness programme that helps you improve your overall strength and conditioning to be able to maximise your life outside of the gym.
Callisthenics
Callisthenics is a form of strength training consisting of a variety of movements that exercise large muscle groups, such as standing, grasping and pushing. Often performed rhythmically and with minimal equipment our specialised classes will focus on developing or improving bodyweight strength in areas such as handstands, muscle ups, and pistol squats.
Weightlifting
Building strength and fitness using methods of weightlift training. A perfect way to update your fitness regime and progress your workouts.
Legends
Stay strong and maintain your fitness whatever your age. Our older members will enjoy tailored classes focussed on their needs
Youth
Engaging and inspiring young people is at the heart of the YMCA mission. We'll have a range of classes tailored for different ages That introduces them to the gym and the gym equipment. Our focus will be to have a fun and welcoming place that builds fitness, coordination, and confidence.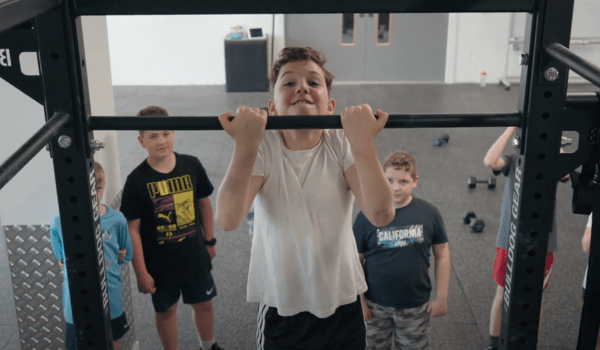 Explore our Youth Classes
Step into a new era of health and fitness with our Youth Class. Encouraging an active lifestyle in young people is an important part of our everyday. Our Youth Classes are a great way to exercise with friends and create a collaborative environment with healthy habits at it's centre.
Meet your coaches!
Nathaniel has been coaching fitness for over ten years now, and has worked as a Strength & Conditioning coach and as a head coach within the world of functional fitness.
He's a big believer that whatever you do in the gym should maximise your life outside of it and doing that as part of a community can add years to your life. The gym is not a place to punish yourself but a place to build yourself up. One of his big passions is coaching young people and helping them become excited about the gym and how to see it as part of a healthy life.
Reb is one of our Strength and Conditioning Coaches. She has been coaching all kinds of strength and conditioning for more than a decade and is passionate about how getting stronger and fitter can bring a real difference to people's confidence and everyday lives. In her spare time Reb competes at a national level in Strongwoman events, and studies and teaches traditional Chinese martial arts.
Reb is on a mission to get all sorts of people strength training – especially those who might feel anxious or out-of-place in a strength and conditioning gym. Lifting weights needn't be scary!